Who is BentMetal Design?
In 2005, after several years of working in the industry (web design + graphic design), Jen Marcantonio decided the time was right to start her own business. Having gained experience as an in-house designer, as well as being part of a team in a design firm, Jen found freelance projects to be the most rewarding. The freedom to choose projects was enough to make her take the leap, and BentMetal Design came to fruition. Jen enjoys the variety of work she sees, the ability to see projects from concept to completion, and the personal nature of having face-to-face contact with clients.
Since BentMetal Design was founded, the client list has been gradually growing, mostly by word of mouth. Jen grew her business with the philosophy: "do an exceptional job for one client, and they will recommend you to others". Customer service is still at the forefront of everything we do at BentMetal.
Some facts and factoids about Jen: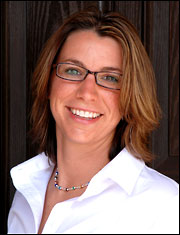 Education: B.F.A. in Graphic Design and a minor in Business Administration from Montana State University

Sports & Outdoors: Jen loves the outdoors and is a bit of a sports junkie: softball, basketball, racquetball, snowboarding, skiing, hiking, wakeboarding/surfing, golf, riding quads ...you name it!

Music: Jen enjoys music of all kinds and has a completely random playlist, but has no musical skills to speak of.

Family: You can't include factoids about Jen without mentioning her husband, Chuck, and her two trusty sidekicks, Rockford & Maggie (a yellow and black lab). The four of them go on many outdoor adventures together, including several trips to the Oregon Dunes each summer.